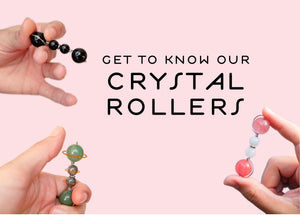 Get to know our Crystal Rollers!
Feel the magic of our new Crystal Rollers! 
Handmade with beautiful high quality semiprecious gemstones, sturdy and small enough to carry around with you and make the play inconspicuous. Better your finger coordination by passing it around your fingers or simply spin the beads around for a nice sound and satisfying motion.
-
Customize your roller!
We offer various stones to suit your preference! Outer stones are available in Lapis Lazuli, Green Aventurine, Tiger Eye, Rose Quartz and Cherry Quartz! Inner stones are Rainbow Moonstone and Labradorite. 
This is only the beginning as we plan to add many more stones as time goes by! If you'd like to combine stones in the same roller simply contact us to make your customized item!
-
Learn to play
Crystal roller is a unique build but some ways to play with it resemble a knuckleroller or knucklebone. There are many tutorials online of how to play but here's a curated playlist we made to learn specific tricks! Don't forget to improvise your own though.
https://tinyurl.com/KnucklerollerTutorials
-
Whether your preference is fidget, stim or skill toys or mystical gemstones with metaphysical properties Crystal Rollers are for you.
Stay flowy,
B+C
---