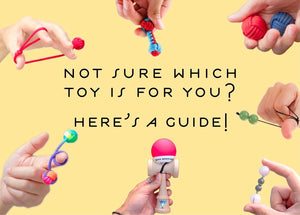 Not Sure Which Toy Is For You? Here's a guide!
We get it.  You stumbled upon our toys in your internet journey and they got you very curious.  Now you're excited to give them a try but you're not sure where to start.  Let us help with that.
Whether you're looking for something to fidget with or something to get better at, our toys offer a variety of physical and mental benefits.  Some of them help with hand-eye coordination, stress relief, and fine motor skills.  Others help you work on your depth perception, sharpen your reflexes, and develop your patience.  Some of them are discrete, some of them are a bit more showy, and others can be customized to your very own taste!
Let's dive right in!
B+C Traditionals 
The begleri, like a few of our other toys, is an item that can serve as a fidget toy or as a skill toy since there are many tricks you can learn that put your abilities to the test.  We find begleri to be one of the most challenging toys in our catalogue.  It's easy to carry and fairly discrete.  This toy is a great aid in stress relief and can serve as a meditation tool.  At the same time, it helps you tune your fine motor skills.  It's like your hands become ninjas.  
The knuckleroller is a small discrete skill toy that makes no sound when dropped.  To play you just grab it between any two fingers and pass it around.  Fits comfortably in almost any pocket so you can take it anywhere you go and play whenever you like.  However, don't be fooled by it's size.  This little friend can be of big help with stress relief and promoting blood circulation to your fingertips.  Your fine motor skills will thank you later.  
The kendama is a traditional Japanese toy which has evolved into a modern sport. Its a ball, cup and spike game that offers endless hours or peculiar mobility and concentrated action. Many find this activity to be stress-relieving and a good exercise for the body.  This wooden toy is like a seed that you watch grow into a big strong tree, but inside yourself.  Its steady practice comes with a lot of rewards.  If you play and pay attention long enough, someday you'll drop something in the kitchen and catch it midair like it was a miracle.  You'll wonder where did that come from.  Yes, it's from the kendama.
Kururin™ is the Japanese desktop toy you would want to be using when you're bored at the office and it's only 11am.   You can use it as a simple fidget toy or as a creative, precision-mastery, hand eye coordination building toy! To be used in most surfaces including the floor. Simply tip it over and catch it before it loses momentum.
Straight out of the B+C playground comes the Longshot.  It offers a more simple style of play.  It can be used by inserting a finger through the loop and spinning it. It can be wrapped and switched between the other fingers. This toy is awesome to get the fundamentals of begleri down.  It's like its younger brother.  They posses similar qualities and styles of play.
Boli is our wild card and our most solid companion.  They're made with steel bearing balls wrapped in paracord and they're ready to give you all the tough love you can handle.  You can use them as meditation balls and orbit two or three around the palm of your hand to relax the mind.  They're also good for practicing juggling and catching.  What we like the most is that they can be used as massage tools to work on trigger points and knots in the muscles.
Crystal Series
Juju is the coolest babe around.  It serves as a multi-use crystal companion.  You can have it with you as a bracelet and remove it to utilize as a toy or a pendulum.  How you say? The stones are free to move so it can transformed in a variety of ways:
⚪️〰️⚪️ - Beads separated to be used as a begleri (Greek skill toy)
⚪️⚪️〰☝️ - Beads together to swing as Longshot (fidget/skil toy)
🔔 - Beads together to hang as a pendulum
🤲 - Back to bracelet whenever done! 
The Crystal Roller is like our magic wand.  It can be used as a knuckleroller/knucklebone to better your finger coordination.  A great add on is that you can also spin the beads around for a satisfying motion.  It can serve as some sort of spinner.  If you're fond of magic, you can carry your roller to keep the metaphysical properties of the stones close by.    
If you're interested in spinners we also have what we call Tactile Necklaces in our catalogue.  The pendant is made with genuine semiprecious gemstones that you can spin while wearing them as a necklace to keep your hands busy.  It comes with a string that has an adjustable knot.  
Stay flowy,
B+C
---